12th February 2021.
Please note that no. 1 employee or employee of the institutions and trade associations of the territory in question is allowed to attend the event free of charge after registering online.
*****
What are the elements to consider when choosing a form of payment?
What implications are there between the means of payment and Incoterms?
How to choose the best form of payment?
On 18th February, the 2021 training season of Venicepromex – Agency for the internationalisation of the Venetian Chambers of Commerce – officially opens.
A morning, together with

Alessandro Russo
, dedicated to international payments entitled:
The management of international payment instruments
Thursday, 18th February from 9:00 am to 1:00 pm
In commercial transactions one of the most delicate phases is certainly that of collection:
the seller wants to protect himself against the risk of non-payment;
the buyer, on the other hand, would like to keep his liquidity for as long as possible, paying only when he is certain to receive the goods.
The aim of the meeting is to familiarise you with the best choice of payment terms to be applied abroad according to the characteristics of the transaction, the reference market and the
specific country risk.
Click here
for a detailed programme of the morning's meeting,
participation procedures and costs.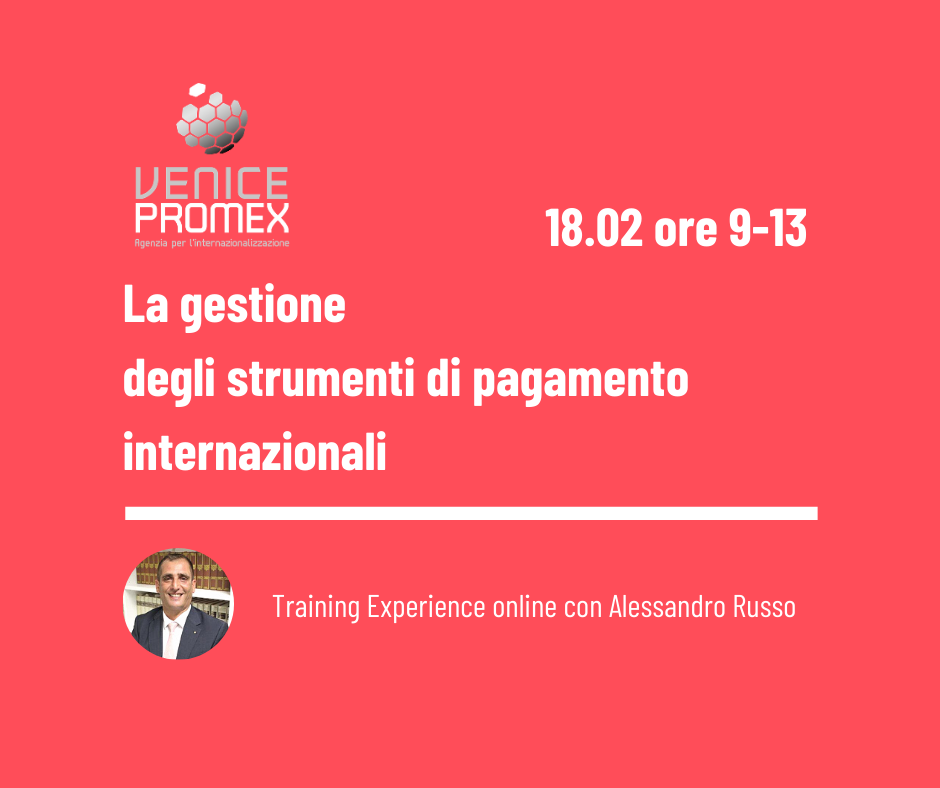 Remember:
The meeting will be held by videoconference, the platform used is Zoom.
Once you have completed your registration, on the day before the event, we will send you directions for accessing the virtual classroom.
Please note that the webinar will be recorded and you can watch it as many times as you like.
The cost of participation is
60€ + vat in the case of a single participant,
108€ + VAT for 2 participants from the same company
144 € + VAT for 3 (or more) participants from the same company.
*****
Oh no!
Maybe international payments are not your area of expertise, maybe you deal with other aspects of internationalisation (customs, tax, legal, transport, sales): we have a Training Experience for
you too!
Click on the blue button below and discover the 2021 training calendar.