The Sena Theatre

Feltre's theatre is now available and visitable!
It includes a Palladian loggia of 1558 and has three floors of ninetheenth-century galleries and neoclassical decorations designed by Gianantonio
Selva and Tranquillo orsi.
The Sena is also known as Piccola Fenice (Small Fenice), because his interior design recalls to the Fenice Theatre's decorations in venice.
The career of the famous Carlo Goldoni began in this theatre where he made his debut with the plays Il buon padre and La cantatrice.
Belluno City Theatre

The theatre is in neoclassical style, designed by the architect Giuseppe Segusini.
It is built on the place of the ancient city walls called Fondaco, beside Porta dojona.
The current façade is from the last restoration works completed in the ninties by Sergio Rigo, but the interiors are dated back to the Second World war.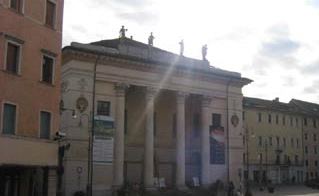 Follow us on Instagram and have a look at
our photo Gallery.
Subscribe to our trevisobellunosystem newsletter to keep up to date
with all the events of our territory. To receive our newletter you can subscribe here.
Edited by Eleonora Zorzi,
Trainee at the Treviso – Belluno Chamber of Commerce